Reconditioned Brake Calipers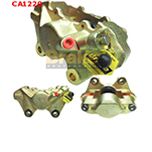 Brake Calipers reconditioned by Brake Engineering. Please note that these calipers have been on our shelf for quite a few years so the seals may be perished, hence the price. Therefore you may need to replace the seals. However, this is a great opportunity for anyone wishing to rebuild a perfect caliper casing using stainless steel pistons (available separately).
There are no products matching the selection.