Radius Arms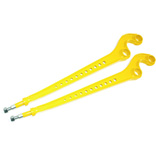 SKU: PM067

Paddock
Defender, Range Rover to 1985
Aftermarket

Stock Item - usually ready for despatch

Inc. VAT:

£198.00

Inc. VAT:

Info

UK VAT charged at 20%.

Ex VAT

£165.00

Ex VAT

Info

Outside of EU and EU VAT registered companies only (not UK).

SKU: PM051

Paddock
Defender, Discovery 1, Range Rover 1986-1994
Aftermarket

Stock Item - usually ready for despatch

Inc. VAT:

£198.00

Inc. VAT:

Info

UK VAT charged at 20%.

Ex VAT

£165.00

Ex VAT

Info

Outside of EU and EU VAT registered companies only (not UK).

SKU: PM799

Paddock
Defender, Discovery 1, Range Rover 1986-1994
Aftermarket

Stock Item - usually ready for despatch

Regular Price: £99.54

Special Price Ex VAT £79.00 Ex VAT Inc. VAT: £94.80
Radius Arms for Suspension
Here at Paddock Spares we have radius arms for a range of Land Rovers and Range Rovers.
For any off-roader, serious consideration has to be made of the suspension on your vehicle. Do you need heavy duty coil springs, or maybe a two-inch lift?
Paddock are well known for our wide range of suspension equipment on offer, many from leading brands. Here you will see cranked radius arms suitable for vehicles with two-inch lifts.