Automatic Gearboxes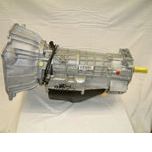 Land Rover Automatic Gearboxes
Paddock Spares know the value some drivers get from having an automatic gearbox. That's why we have selected these gearboxes for the luxury Land Rover models.
We are able to supply the ZF4HP22 4 speed auto as used in the Range rover classic and the Disco 1 as well as the 4HP22EH and 4HP24EH used in the P38 Range rover and the Disco 2.
Ashcroft autoboxes have a fixed set of new parts including pump bush, friction plates, filter, gaskets and seals. All the parts are tested rigorously.