6 Arm Flex Web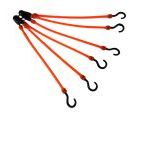 18" fixed end cords united via a central ring to create a 6 arm web. Can securely hold down a multitude of items.
SKU: FE18-6CG

Perfect Bungee
Aftermarket

Special Order - 1-2 Days

Regular Price: £15.54

Special Price Inc. VAT: £8.70 Inc. VAT: Info UK VAT charged at 20%. Ex VAT £7.25 Ex VAT Info Outside of EU and EU VAT registered companies only (not UK).