Side Steps & Rear Steps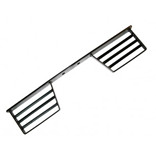 Side Steps & Rear Steps suitable for the Land Rover Defender.
Land Rover Defender Steps
Want to add steps to your Land Rover Defender? You've come to the right store. Paddock Spares have a wide range of steps for the side or rear of your Defender. Whether you need full steps, half steps, folding steps or side runners. We have something to suit your needs.