BF Goodrich Tyres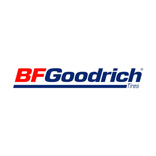 BF Goodrich tyres are widely regarded as the best 4x4 tyres in the world. They set the standard for all 4x4 tyres where there is a moderate to extreme off-road requirement.

BF Goodrich are very well known for their durability, strength and almost unbelievable mileage potential. They have a cult status in the UK amongst 4x4 enthusiasts and are at the forefront of 4x4 motorsport, being fitted to the Paris-Dakar-winning vehicles for 3 years in a row from 2002-2004.
BF Goodrich Tyres For Land Rover
Give your Land Rover / Range Rover the ultimate in grip and control with BF Goodrich.
Here at Paddock Spares we have sourced a great range of tyres to suit your Land Rover.
All Terrain Tyres
BF Goodrich All Terrain tyres are 50% Road and 50% off Road. They will provide your Land Rover with fantastic grip on tarmac, gravel, sand, mud, etc
These High-quality tyres offer sturdiness and long life, allowing you to really o really push the limits of your vehicles performance.