Suspension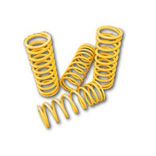 Paddock stocks a vast range of items for the off road enthusiast. From winch blankets to waffle boards, from recovery ropes to full suspension systems. The range is continously growing. In this section of off road you will find our suspension items.
Suspension Parts for Off Roading
Looking for offroad suspension parts? Well, look no further. Paddock Spares have a wide range of suspension parts for 4x4 off-road vehicles.
We have panhard rods, bush kits, coil springs, steering rods, dampers and much more. Browse our suspension parts for great prices.