Exmoor Trim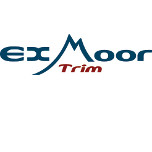 Exmoor Trim manufactures and supplies a wide variety of products for the Land Rover range of vehicles. The Exmoor Trim brand has become known globally for quality and service.
Canvas Covers for your Land Rover
Exmoor Trim are renown for the quality of their canvas hoods for Land Rover.
Here at Paddock Spares we sell a range of Canvas hoods to fit Defender, and Series models. Whether your preference is for windows or without windows, Khaki or Sand we have a Land Rover hood for you.