Discovery 2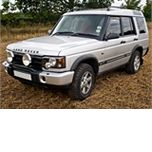 Buy Land Rover Discovery 2 parts and accessories. Here you will find most of our most popular items. If you can't find what you need please contact us or use the search function above.
Land Rover Discovery 2 Parts
We have a wide range of Land Rover Discover 2 Parts for sale. If you cannot find what you are looking for, please contact us for assistance.
Discovery 2 Engine Parts & more
As well as Engine parts for TD5 and V8's we sell all the essential accessories to keep your Discovery 2 moving. We have parts for brakes, exhausts, steering and suspension as well as a host of other parts.