Alloy Wheels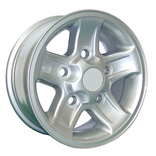 For many years, Paddock has offered a large range of wheels and tyres. Here are our alloy wheels.
Land Rover / Range Rover Alloys
Despite your Land Rover or Range Rover having the ability to take on any task, there is no reason it shouldn't look good too.
Here at Paddock Spares we have sourced a great range of alloys to suit your vehicle
Quality 4x4 Alloy Wheels
We believe in offering our customers the very best value for money when buying wheels for their trusty 4x4.
Choose either Saw-tooth wheels or 5 spoke wheels, and make your vehicle a cut above the rest.