ARB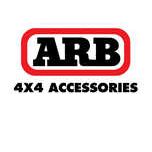 The most highly regarded Land Rover traction aid. ARB gives the traction needed to combat off road terrain.
ARB Land Rover Products
ARB are Australias major producer of 4x4 equipment. Famed for their quality off-road products Arb products are a favourite of Land Rover owners.
Here at Paddock Spares we bring you what we feel is the best of the ARB range. Choose air lockers and accessories, camping fridges, tents and awnings as well as recovery equipment.