Miscellaneous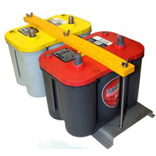 Split charge systems and other add-ons are often important to an off road vehicle set up.
SKU: PM330

Red Bison
Series 2 & 3, Defender, Discovery 1, Discovery 2, Range Rover 1986-1994, Range Rover to 1985
Aftermarket

Stock item - usually ready for despatch

Regular Price: £29.27

Special Price Inc. VAT: £26.40 Inc. VAT: Info UK VAT charged at 20%. Ex VAT £22.00 Ex VAT Info Outside of EU and EU VAT registered companies only (not UK).