Brakes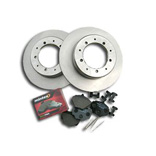 See below for our fast moving brake parts suitable for the Land Rover Defender. We always guarantee great quality at the best prices. We always guarantee great quality at the best prices on
Defender parts
Land Rover Defender Brakes
Choose Defender Brakes at Paddock Spares. We sell a range of brakes to fit every model of Land Rover Defender.
We have brakes for the Front Axle, Rear Axle - drum brakes to KA930455, Rear Axle - disc brakes from LA930456, Brake Master Cylinder and Servo System as well as ABS Sensors.

See above, our fast moving brake parts suitable for your Land Rover Defender. We always guarantee great quality at the best prices. No matter what you are looking for, choose Paddock for Defender Brakes.