90 Exhausts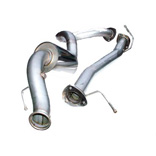 See below for our fast moving exhaust parts suitable for Defender. We always guarantee great quality at the best prices.
Land Rover Defender Exhausts
Choose a Defender Exhaust at Paddock Spares. We sell a range of exhausts 90,110, and 130 exhausts to fit every model of Land Rover Defender.
We have exhausts with Catalytic Converters and ones without. We also have exhausts suitable for both Petrol and Diesel engines.