Mirrors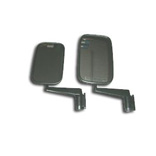 See below for our fast moving mirror items suitable for the Land Rover Defender. We always guarantee great quality at the best prices.
Mirrors for Land Rover Defender
Choose from our large range of Land Rover Defender mirrors. Whether you need wing mirrors or rear view mirrors, we have something to suit your Defender. We also have mirror heating kits to help you get moving quickly on cold mornings.