Power Steering Boxes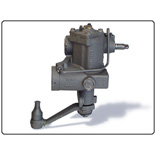 Power steering boxes suitable for the Land Rover Defender range.
Defender Power Steering Boxes
Add Power Steering To your Land Rover Defender. We have a range of PAS Boxes, both right hand drive and left hand drive.
The majority of our PAS boxes have a bent drop arm. These power steering Boxes will fit a variety of vehicles in the Land Rover family.