Accessories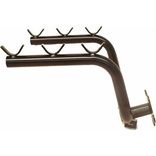 See below for our fast moving accessories suitable for the Freelander 1. We always guarantee great quality at the best prices.
Accessories for Land Rover Freelander 1
Sometimes you just need those extra touches to make your Freelander stand out. Here at Paddock Spares, we have a range of Official and 3rd party Freelander accessories to suit all needs.
Whether it's mud flaps, wind guards, Dog gates, wheel covers, running boards or foot mats, we have it all. browse our Freelander accessories today.