Brakes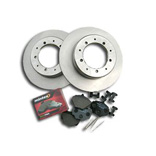 See below for our fast moving brake parts suitable for Freelander 1. We always guarantee great quality at the best prices.
Freelander 1 Brake Discs, Brake Pads & Accessories
Replace the worn brake parts on your Land Rover Freelander 1 with parts from the Paddock Spares catalogue. We have both front and rear brakes and associated parts to the Freelander 1 Range.