Chassis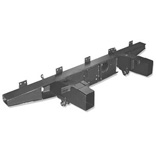 See below for our fast moving chassis parts suitable for the Land Rover Series 2, 2A & Series 3. We always guarantee great quality at the best prices.
Chassis Parts for Land Rover Series
Padock Spares have a large range of Chassis parts to fit your Land Rover Series. We also have we stock individual chassis components such as rear members and bulkheads. You can also buy mounts and brackets for Axle repair.