Exhaust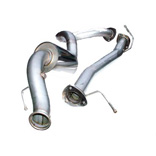 See below for our fast moving exhaust systems and parts suitable for the Land Rover Series 2, 2A & Series 3. We always guarantee great quality at the best prices.
Exhausts for Land Rover Series
We have a range of exhaust systems to fit your Land Rover Series, model. Choose your exhaust from mild steel or stainless steel. we have 88 inch, 109 inch and Separate pipes.