Propshaft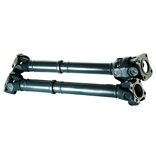 See below for our fast moving propshaft parts suitable for the Land Rover Series 2, 2A & 3. We always guarantee great quality at the best prices.
Prop Shafts for Series Land Rover
Buy prop shafts for your Series 2, 2a and 3 Land Rovers from Paddock Spares. We have front and rear prop shafts as well as all the associated parts such as gaiters universal joint kits and bolt removal tools.