Suspension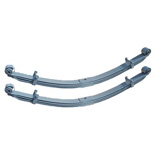 See below for our fast moving suspension parts suitable for the Land Rover Series 2, 2A & Series 3. We always guarantee great quality at the best prices.
Suspension Parts for Series Land Rovers
Buy suspension parts to fit your Series Land Rover. Here at Paddock Spares we sell all the parts that you need to fix and improve your suspension. We have road springs, parabolic springs, suspension parts and shock absorbers.