Series Gearbox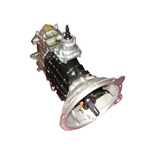 See below for our fast moving gearbox parts suitable for the Land Rover Series 2, 2A & Series 3. We always guarantee great quality at the best prices.
Gearbox Parts for Series Land Rover
Buy gearbox parts for your Series Land Rover at Paddock Spares. We sell a wide selection of Land Rover gearbox parts from bearing kits to gasket sets. We have oil seals, gear levers, selection of gear knobs and selected handbrake parts.