Series 2 and 3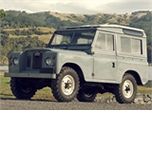 Series 2 & Series 3 Landrover Parts. Paddock offer a wide range of spares and accessories suitable for the Land Rover Series 2, 2A & 3. Here you will find most of our fast moving, popular items. If you can't find what you need please contact us or use the search function above.
Land Rover Series 2 & 3 Parts
Land Rover Series 2 and 3 are fully catered for here at Paddock Spares. We know our customers still love the older Land Rovers, and so we make every effort to provide parts and accessories to fit these older models.
Here at Paddock Spares we sell a wide range of parts to suit the Series 2 or Series 3 Land Rovers